Hokkaido-Japan
Attractions in Hokkaido, Japan
Hokkaido (???, Hokkaid?) is the second largest, northernmost and least developed of Japan's four main islands. Its weather is harsh in winter with lots of snowfall and below zero temperatures while its summer is mild and not as humid as the other parts of Japan. Hokkaido attracts outdoor lovers, skiers and snowboarders in the colder seasons and hikers, campers in the summer.
Hokkaido confounds expectations at every turn. While the mainland of Japan has a reputation for being tiny and crowded, Hokkaido is expansive and  populated. While the mainland features typically Asian architecture, the major cities of Hokkaido have a European feel. Hokkaido has natural wonders, from fields of alpine flowers in the summer to breathtaking ice-scapes in the winter months.
Cherry blossom year 2018
It has been predicated that skaura (Cherry Blossom) will start to bloom as usual in Okinawa. Therefore, cherry blossom festivals are scheduled to be held at different spots between January 27, 2018 and February 12, 2018.
Places to visit in Hokkaido
Cities and Resort Towns
Furano and Biei
are towns in the center of Hokkaido, Known for their pleasant and pictureque rural landscapes. Best time to visit in July when the Lavender fields are in bloom.  Furano is a popular downhill and cross country skiing resort.
Furano Ski Area is one of Hokkaido's famous snow resorts. Located in a town known for its flowers and television dramas, the resort offers an exciting attraction for the cold winter months.
Asahikawa Winter Festival
The Asahikawa Winter Festival (??????, Asahikawa Fuyu Matsuri) is Hokkaido's second largest winter festival after Sapporo's Snow Festival. The festival takes place over a week in early February, about the same time as the Sapporo Snow Festival. Hence, it is possible for winter visitors to visit both festivals on the same trip as the two cities are only an 80 minute train ride apart from each other.
Asahikawa  has some of the biggest snow sculptures. Every year one massive sculpture is made as a stage for music and other performances. The giant sculpture of a Korean fortress in 1994 even made into the book of Guinness World Records as the largest snow construction built. The giant sculpture has a different theme each year, such as a snowman castle in 2010 or the Daisetsuzan Mountains in 2011.
An Ice Sculpture in the Heiwa Dori Area
Rusutsu Resort
Rusutsu Resort is considered one of the best ski resorts in Hokkaido. It has a large
ski area that covers three mountains, each having a variety of long runs with a good mix of groomed trails, great powder and tree runs. It is close to Lake Toya (Toyako) and is on the other side of Mount Yotei from Niseko.
A large hotel complex sits at the center of the resort, consisting of the highrise Rusutsu Tower, A monorail connects the buildings with each other.
Rusutsu Resort offers numerous attractions beside Skiing, hot spring baths, as well as places catering to foreigners such as the Cricket Pub sports bar. Summer activities include golf and an amusement park with over 60 attractions and 8 roller coasters.
Noboribetsu Onsen
Noboribetsu Onsen is Hokkaido's most famous hot spring resort. A large amount of Noboribetsu's many types of hot spring water surfaces in the spectacular Jigokudani or "Hell Valley" just above the resort town. Noboribetsu is part of Shikotsu-Toya National Park.
Other Nearby Attractions
Lake Toya,  Lake Shikotsu. Jigokudani, Hot Springs, ???Porotokotan, Mount Uso, Caldera Lake and Hell Valley.


Jozankei Onsen
is located inside Shikotsu-Toya National Park between the high cliffs of the Toyohira River. The town is only one hour from Sapporo, making it a popular side trip from the city for residents and tourists. As a result, Jozankei is very developed compared to smaller onsen towns in Hokkaido.
The onsen waters of Jozankei were discovered in 1866 and the town now has dozens of ryokan, restaurants and shops catering to hot spring tourists.
Hakodate
is Hokkaido's third largest city, located at the island's southern tip. Hakodate is best known for the spectacular views to be enjoyed from Mount Hakodate and its delicious, fresh seafood.
As one of the first Japanese harbor cities to be opened to international trade after the country's era of isolation, Hakodate has experienced notable influence from overseas, and the foreign population's former residential district and a Western style fort are among its main tourist attractions.
Onuma Park, a quasi national park with beautiful, island dotted lakes, is located only half an hour north of Hakodate.
The Shiraoi Ainu Museum, also called Porotokotan, is one of Hokkaido's better Ainu Museums. Ainu culture and lifestyle is shown in an outdoor reproduction of a small Ainu village and inside a conventional museum building. Several performances, such as traditional Ainu dances, are held throughout the day.
Asahikawa
Located in the center of Hokkaido, Asahikawa is the island's second largest city after Sapporo. The city is not known as a leading tourist destination, but its zoo, Asahiyama Zoo, is among Japan's best and most popular. The local noodle dish, Asahikawa Ramen, is also quite well known.
Otaru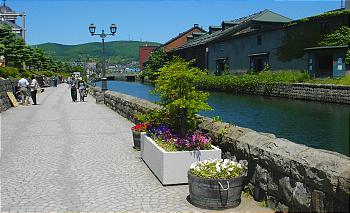 Otaru is a harbor city,  Its beautiful canal area and interesting herring mansion make Otaru a pleasant one day trip from Sapporo  to or from the Shakotan Peninsula.
Ferries from Niigata and Maizuru on Honshu arrive at Otaru Port
Sapporo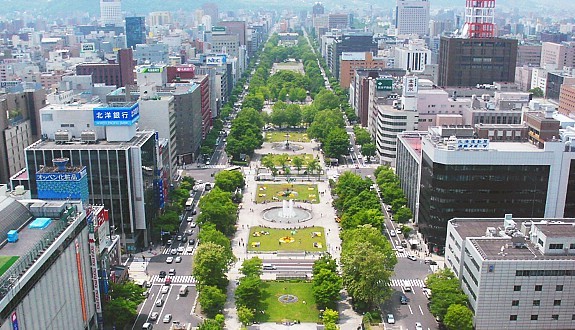 Sapporo is the capital of Hokkaido and Japan's fifth largest city. Sapporo is also one of the nation's youngest major cities. In 1857, the city's population stood at just seven people.
Sapporo became world famous in 1972 when the Olympic Winter Games were held there. Today, the city is well known for its ramen, beer, and the annual snow festival held in February.
Hokkaido and Asahikawa are Famous for its Ramen
Hokkaido, Asahikawa is famous for its ramen. Whereas Sapporo is known for its miso based broth and Hakodate for its salt based broth, Asahikawa is known for its shoyu (soya sauce) based broths. Shops serving shoyu based ramen can be found throughout the city.
The broth of Asahikawa Ramen is also known for being quite oily, and there is often a thin layer of oil on top of the soup. Another characteristic of the local ramen is the generally thin, hard and wavy noodles. The range of toppings is quite typical and includes green onions, pork, bamboo shoots and eggs.
On the outskirts of the city there is an interesting collection of ramen shops called the Asahikawa Ramen Village. Eight famous ramen restaurants from Asahikawa have opened small branch stores besides one another in the complex alongside a gift shop and a small ramen shrine.
By: Adma Dababneh
Information taken from Japan-guide.com
Other Related Stores